The only all wooden historical yacht available for charter in San Diego!
Come aboard for the most romantic, relaxing, and scenic way to see the San Diego skyline.
This boat is designed to race and therefor it needs very little wind to get it moving! If you want the experience of classic sailing, then this is where you will find it.
Private Group Charters up to 30 people are our speciality. So if you have a wedding, corporate event or something else that you need an exciting venue for, come take a look at the incredible Jada!
Crew will share historical information of the Jada and surrounding ships in the bay.
All inclusive tickets are just a bit more! Wine and snacks are provided at not extra charge!
Prefer a certain meal, or want to do a lunch/dinner trip? Private charters can accommodate any dietary and menu requests. The staff will prepare everything in the historical kitchen down below.
Corporate and other organizational groups enjoy team building, executive outing and sales reward charters. Family groups celebrate birthdays, anniversaries, weddings and any special occasion aboard our yacht. Visit our website for more information.
More About Jada
The sailing yacht Jada is designed for blue water ocean racing. She was built over seventy years ago as a solid and fast passage making vessel, and even today with the advent modern fiberglass sailing vessels, Jada is still considered a fast boat.
Her full keel and yawl rigged sails make her a very stable and safe vessel, even for crossing oceans on extended voyages.
Today it would cost nearly $2million to design and construct Jada to her original specifications.
Below deck Jada's interior was created by master craftsmen using the finest teak wood available providing a warm glow to all passengers aboard. Her cabin sole (floor) is also teak with gorgeous holly inlays capturing the quality of a bygone era.
Rare at the time of her construction is Jada's hard-dodger cockpit cabin, which keeps her passengers warm and cozy when conditions are less than ideal.
Jada Sailing Vessel Facts: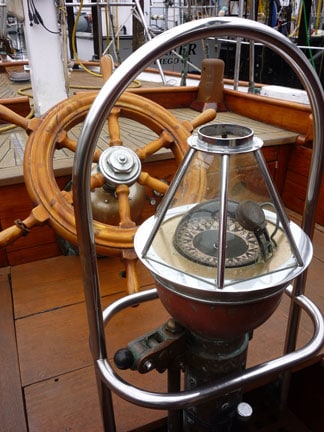 Navel Architect: Philip Rhodes
Builder: Stevens Brothers – Stockton CA
Year: 1938
Materials: Port Orford Cedar over white oak frames, teak interior and decks
Engine: Perkins 80 HP Diesel
Displacement: 40,000 lbs