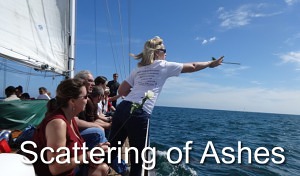 Once we arrive at or enroute to the designated area, you may take some time to participate in your memorial at sea service (say a few words, sing, recite a prayer and scatter the ashes). We can recommend a religious officiant and a florist who can create a biodegradable wreath to accompany the ashes if you like. Once the burial at sea service is complete, the captain will drive the boat in a circle around the ashes signifying the circle of life and giving you an opportunity to reflect and watch the ashes as they float out to sea. JADA crew will mark the coordinates of your scattering on a commemorative card in case you would like to return to that place in the future.
The classic sailing yacht JADA is the signature vessel in the fleet, however we manage a wide range of affordable vessels large and small, motor and sail, so we can easily accommodate your needs for number of guests, size, and comfort.
You will need to provide the cremation ashes to scatter and the permit for scattering. We will provide the vessel, the crew, soft drinks, cushions and blankets. We will also record your permit with vital records in San Diego in your behalf. Sail JADA Charters is licensed by the State of California to scatter ashes at sea.
[nation_calendar id='1']