San Diego Sailing & Yacht Charters Reservations
It's easy to make a reservation with JADA Sailboat Charters:
Call us at (858) 222-9479 or email us by visiting our contact page.
JADA is the most affordable Sailing Yacht in San Diego with a capacity up to 30 guests. Sailing Charter options starting at $995 for 2 Hour Bay Tour. Custom options and remote pickup available Call Now to inquire (858) 222-9479.
For group charters, a security deposit of ½ of your charter fee is required at least two weeks prior to your departure date to reserve your time slot.
We are unable to take online reservations the same day as a scheduled cruise.  If you would like to make reservations for a cruise and it is the same day, please make your reservation by calling (858) 222-9479.
– Please contact us for group charter rates –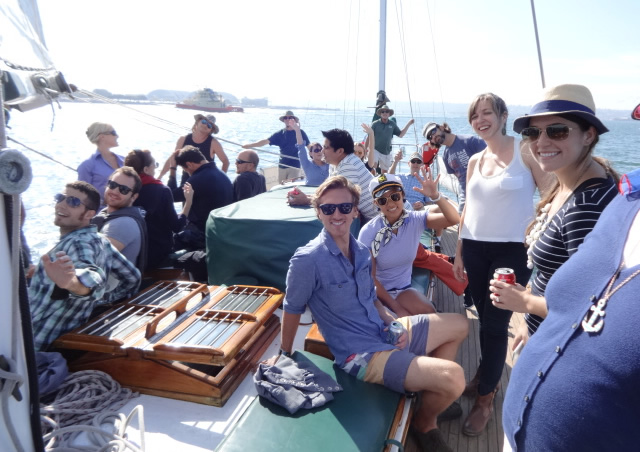 Saturday Public Charters for Summer
There's no better way to see the bay, skyline, sea life and more than from the only authentic, classic wooden sailing yacht for charter in San Diego. You'll enjoy a three-hour voyage aboard this traditional 65-foot vessel, narrated by your captain. Some beverages and light snacks are included in the tour price, and you can also bring your own picnic and alcoholic beverages. Enjoy the cruise above deck where there are cushions to lean back on, or in the galley area below if you prefer protection from the sun and wind. Call for group rates and industry discounts. Individual tickets $140 all fees and taxes included.
See the Public Charter Calendar for all upcoming events here.
Purchase a Sailing or Yacht Charter or Pay the Final Balance
After you've confirmed your reservations with JADA San Diego Sailing & Yacht Charters you may either pay over the phone with a JADA Reservations team member or use our online payment system below. You may also pay the final balance of a Sail Charter.
Please click on the "Purchase" button and follow the payment instructions from our online payment processor Paypal. We accept all major credit cards and direct debit electronic checks.
When prompted by Paypal, enter the amount of your charter trip purchase price. After entering the deposit/final payment amount, be sure to click the update link directly below the amount box, the final total will be calculated. After completing the transaction, please allow up to 24 hours to receive confirmation of your purchase. Please note, there is a 2.5% processing fee for credit card transactions.
Sailing on a JADA, a beautiful 65-foot yacht, is an enjoyable and relaxing event. Please contact us today to learn more about our San Diego whale watching
tours, sunset champagne cruises and wedding at sea cruises today.