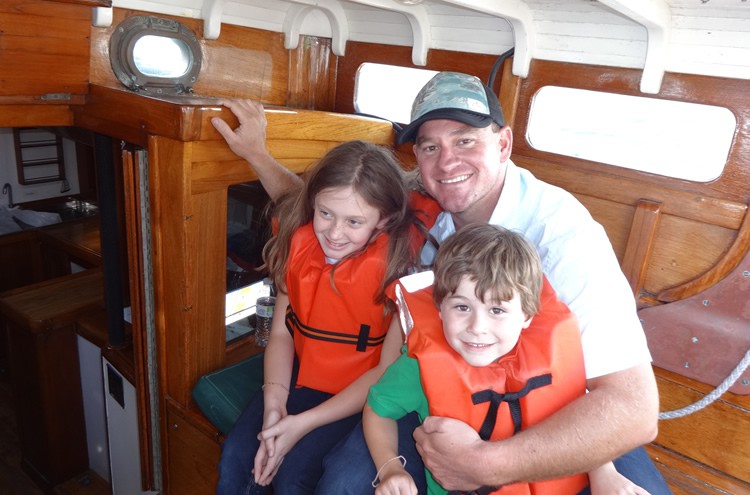 Yacht Charters in San Diego
To experience the yachting lifestyle is to become intimate with luxury, romance, elegance, and indulgence.
The yacht Hululani will provide you all of this, while fulfilling your highest expectations of comfort and service. We offer you and your guests a full suite of first-class amenities and accommodations while aboard this stunning yacht. With beautiful teak wood surrounding you throughout the interior and exterior of the yacht you'll find plush gathering quarters in all areas of the vessel.
Our boat is perfect for six passengers and crew and the yacht Hululani accommodates both day trips and overnight excursions. We have two berths/state rooms with a queen bed in the master and a double with a single bunk above in the second room, perfect for a romantic weekend getaway or private business meeting. Our kitchen includes a large refrigerator and microwave stove providing comfortable service for eight. For your convenience, Hululani has two ice makers aboard, one with a small built in refrigerator, and an additional icemaker located in the helm.
We also provide a high definition DVD player and screen to watch your favorite movies when you're not fishing or outside on the deck enjoying your ocean cruise. All interior floors are covered with carpet and there is a bar for you and your guests to enjoy refreshing cocktails on the water. Hululani has a powerful diesel generator so your electrical items and the yacht's appliances can be used while the boat is at sea.
The Yacht Hululani- A Remarkable Experience!
We take great pride in keeping the yacht Hululani in "like new condition" and outfitting her with the latest and best quality instrumentation and navigation systems. Hululani's helm is oversized with two complete captains' stations. Our radar system is a brand new Ray Marine triple system including a GPS fish finder and radar. We also provide a backup plotting and positioning system. Hululani has an additional fish finder in the cockpit at the stern for the more experienced angler and those serious fishing excursions.
There is truly no limit to the opulence and comfort available to you while aboard the yacht Hululani. Whether it's with your loved ones, friends, or business associates, we invite you to join us aboard the yacht Hululani to experience the yachting lifestyle firsthand for yourself!
For reservations and booking please contact:
Jada San Diego Sailing Charters
(858) 222-9479
carole@sailjada.com
In addition to providing private yacht charters in San Diego, Sail Jada Charters also offers public yacht charters for individuals seeking a wedding cruise, sunset champagne cruises and whale watching tours in San Diego. Please contact us today to learn more about our San Diego yacht charters.